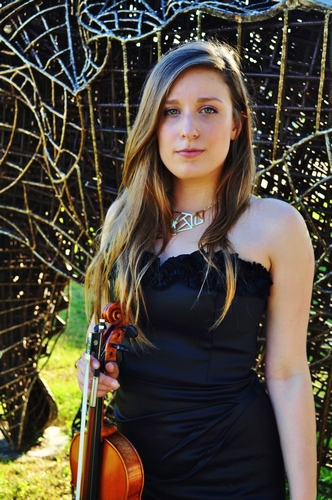 American virtuoso violinist Mia Detwiler has performed in numerous venues throughout the U.S. and abroad including recent performances in Carnegie Hall and the National Museum in Bogotá, Colombia. While comfortable and wellversed in traditional violin repertoire, Detwiler is an enthusiastic advocate for contemporary music. She consistently wows audiences with performances of demanding new works, which offer truly exciting challenges in both interpretation and technique. Deeply passionate about working directly with living composers, she is hopeful for a paradigm shift that would bring the music of the 21st century to the forefront of classical concert music. Her most recent performances have included works by Schnittke, Lutoslawski, Murail, Pärt, and Xenakis, as well as Olivier Messiaen's Quatour pour la fin du temps.
Detwiler regularly performs chamber and orchestral music in various ensembles. She has served as concertmaster of the Unity Orchestra, the University of North Texas Symphony Orchestra, and the Arizona State University Orchestra. She is also a member of the University of North Texas's NOVA Ensemble and has regularly appeared with the Arizona Contemporary Music Ensemble. She was previously a member of the Tallahassee Symphony Orchestra and of the Florida State University Symphony Orchestra.
A dedicated teacher, Detwiler maintains private studios as a Teaching Fellow at UNT and as Adjunct Professor of Strings at Tarleton State University. She also teaches violin and viola at the Coppell Conservatory in Coppell, Texas. In the past, Detwiler taught violin and viola for the nonprofit String Project at Arizona State University as well as for the Tallahassee Youth Orchestra scholarship program.
Detwiler graduated summa cum laude from Florida State University where she earned a Bachelor of Music under the tutelage of Corinne Stillwell. She went on to attend Arizona State University with a full tuition scholarship where she received her Master of Music as a student of Katie McLin. She is currently pursuing a Doctorate of Musical Arts with Felix Olschofka at the University of North Texas.