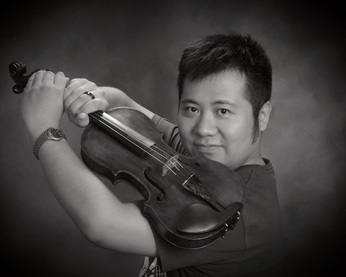 Sergey Tsoy, 2nd prize and two special prizes winner of 2007 International Violin Competition of Sion-Valais (Switzerland), was born in Sochi, Russia. He began studying piano at age four and violin at age five. At age eleven, he won competitions and awards, including 1st prize in All-USSR "Young Virtuoso" Competition in Ukraine and "Titular Stipend" from Lenin's Soviet Children Fund in Kazakhstan.
After coming to the U.S., he graduated from Crossroads School for Arts and Sciences and received an Artist Certificate Diploma from Southern Methodist University. He won competitions, scholarships, and awards, including the Herbert Zipper Certificate of Instrumental Excellence, and 1st prize in Chamber Music International Chamber Music Competition on viola.

In 2003, he joined the Dallas Opera Orchestra. In 2007, he joined the Fort Worth Symphony. Sergey has performed solo and chamber music at concerts and festivals throughout the U.S, former USSR, and Europe while collaborating on both violin and viola with a number of internationally recognized artists.
Sergey also composes in the traditions of the Nineteenth Century Romantics. His compositions were featured in concerts and festivals throughout the U.S., including Young Artists International (YAI) Concert Series, "Sundays at Two" Beverly Hills Library Recital Series, The Academy of Music in New Jersey, and recently at Festival International de Musique Sion-Valais in Switzerland.
Sergey has been a private student of Mikhail Kopelman since 2005 and currently resides in Fort Worth, Texas.