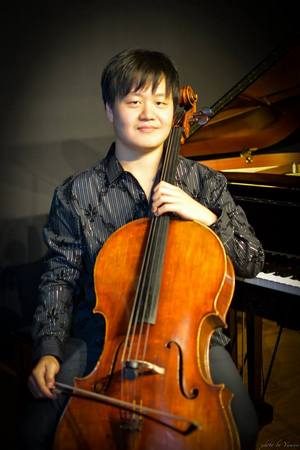 Cellist Kyungseu Dominic Na was born into a family of professional violinists. He started playing violin and piano at the age of 3. After his family moved to Russia, Dominic began studying the cello at the Rimsky-Korsakov St. Petersburg State Music School with Elena A. Dernova and Alexei Massarski. Dominic won his first competition in the Czech Republic after only two years of study. He attended the Konservatorium Wien studying with professor Skocic, and between 2006 - 2010, continued his studies at the Academy of Music in Luebeck, Germany with Lynn Harrel, Ulf Tischbirek, and chamber music with Miguel Da Silva.
Winner of the 1st Prize at Prima La Musica Competition, Vienna in 2002, Dominic also has won prizes in many local and international competitions, and appeared as a soloist and chamber musician throughout Russia, Romania, Korea, Australia and USA. He also participated in such prestigious music festivals as Schleswig-Holstein Music Festival, Germany, Music Summer in Abbaye de Fontfroide, France, Music Festival in Koblenz, Germany, Euro Music Festival in Leipzig, Germany, and Cello Festival Kronberg im Taunus, Germany.
In 2012, he received his Performance Diploma from Southern Methodist University under Prof. Andres Diaz and Christopher Adkins, and is currently pursuing a DMA degree at the University of North Texas with Prof. Eugene Osadchy.