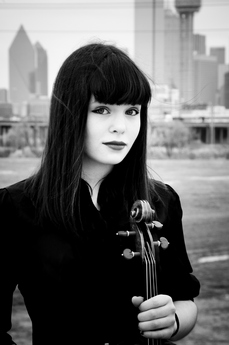 Isabella began her musical studies at the age of 5 with Nicolette Solomon. Dedicated and enthusiastic about performing and contributing to her community, Isabella has actively participated in outreach concerts through The Basically Beethoven Festival, The Symphony of Toys at the Morton H. Meyerson Symphony Center, Southern Methodist University, and guest performances for the Wagner Society of Dallas. She has been selected to participate in masterclasses with Jeffrey Irvine at "A Viola Celebration", The University of Tennesse at Knoxville and with Helen Callus at The Suzuki of Americas conference in Minneapolis, Minnesota.
In 2009, Isabella was selected to attend the prestigious Perlman Music Program under the direction of Itzhak Perlman and Toby Perlman. During the program her private lessons were taught by Heidi Castleman of the Juilliard School of Music. She has also attended the winter residency of the Perlman Music Program in Sarasota, Florida during the years 2009 and 2010. This June of 2011 will mark her third summer at PMP located in Shelter Island, New York.
Isabella has been featured as a soloist on the radio show "From The Top" performing with host Christopher O'Riley at the Winspear Opera House in Dallas, 2009. She is a 2010 recipient of the Jack Kent Cooke Young Artist Award.
Born in Dallas, Texas, Isabella attends J.J. Pearce High School where her favorite subjects are French and Psychology. At home, her interests and passions are playing the viola, playing chamber music, writing, painting, and drawing.