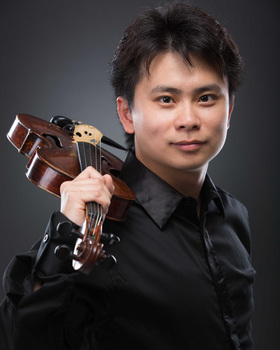 Ke Mai (a.k.a. MaiKe) is originally from China and studied the art of violin playing with former Concertmaster of the Dallas Symphony, Emanuel Borok. He also studied under Liudmila Ovcherenko, Feiei Wu, Ida Haendel, Anne Akiko Meyer and Richard Tognetti.
He graduated with a Masters and Bachelor of Music Performance from the National Music Academy of Ukraine and received a Performance Diploma from SMU, Meadows School of Art in 2014.
MaiKe performed with the National Philharmonic Orchestra of Ukraine as a member of the orchestra and as a solo artist. He was Principal Second Violinist for the 2011 YouTube Symphony Orchestra in Sydney, Australia, which was a week-long collaboration of 101 musicians from 33 countries. The grand finale included animated visuals on the interior and exterior projections by Obscura Digital on the iconic sails of the Sydney Opera House and streamed live on YouTube around the world. The project was led by world-renowned, Grammy award-winning conductor and Artistic Advisor, Michael Tilson Thomas, among other musical luminaries from leading orchestras around the world. The concert was streamed to 33 million worldwide and has been viewed over 2.5 million times online.
Currently MaiKe performs occasionally with the Dallas Opera and is a founding member of the Cézanne Quartet.