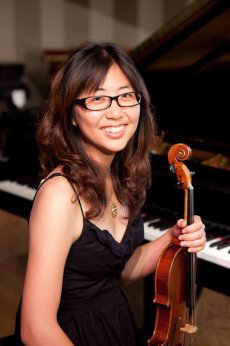 Ai-Wei Chang was born in Taoyuan, Taiwan. She began her musical studies at the piano at the age of five, and commenced violin studies three years later. Ai-Wei was a top prizewinner in both the 1998 and 1999 editions of the Taiwanese Chamber Music Competition.
Ai-Wei received her Bachelors of Music degree from Taipei Municipal Teachers College in Taiwan in 2005, majoring in violin and minoring in piano and voice. Her orchestral career brought her to Japan in 1998 and to the United States in 1999, and gave her the opportunity to perform with many preeminent musicans, most notably Mstislav Rostropovich. She received her Masters of Music degree in 2006, and is currently pursuing a doctorate at the University of North Texas under the instruction of Philip Lewis.
Ai-Wei's former teachers include Yan-Hua Wang for violin, and Cheng-Yao Lee and Christine Long for piano.